With winter right around the corner, there's an irresistible urge to gulp down cup after cup of warm beverages, especially good old chai. Whether you like your tea sweet, bitter, or hot with aromatic spices, the experience feels a tad incomplete without something hot and crunchy to munch on. Chilly weather calls for spicy, mixed vegetable samosas and a steaming cup of cardamom tea. 
At Shana Foods, we have a variety of pre-cooked, pre-packaged snacks you can choose from including delicious Punjabi and chili paneer samosas and Gujarati patra curried leaves. They're packed with savory fillings, crispy and golden brown when fried to perfection. Here are 3 tasty snacks that you can enjoy with your chai. 
1.Punjabi samosas 
Crispy, flaky, and delicious, our Punjabi samosas are filled with a traditional blend of delicately spiced potatoes and peas. A delicious and convenient snack for any occasion, you can fry them to perfection and serve with mint or tamarind chutney. 
You can even create your very own samosa chaat by topping our samosas with huge amounts of sweet and spicy chutneys. Combining two of the most loved street style snacks is an excellent option for your afternoon tea. 
2.Chili paneer samosas
Spice and cheese lovers unite! This classic Indian snack is made with paneer and spiced with ginger, garlic, and chili sauce. Grated paneer is combined with finely chopped onions, herbs and spices and wrapped up in parcels of crisp, flaky pastry.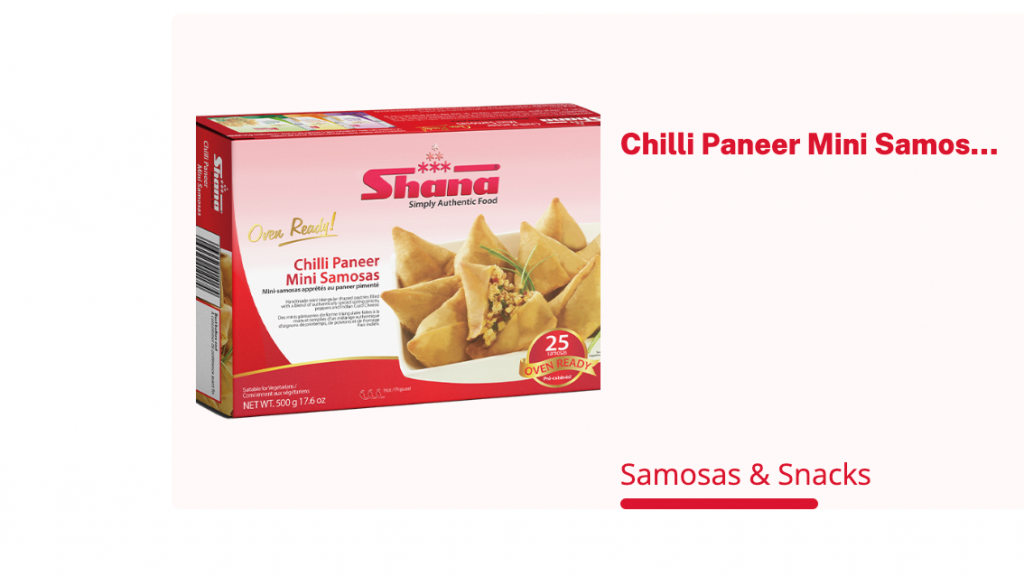 You can either deep-fry them or bake them after brushing each side with melted butter or cooking spray. This Indo-Chinese fusion snack is packed with flavor and crunch and goes just as well with curry as it does with fried rice. 
3.Paneer tikka samosas
Paneer tikkas stuffed inside a crispy samosa pastry? Bring it on!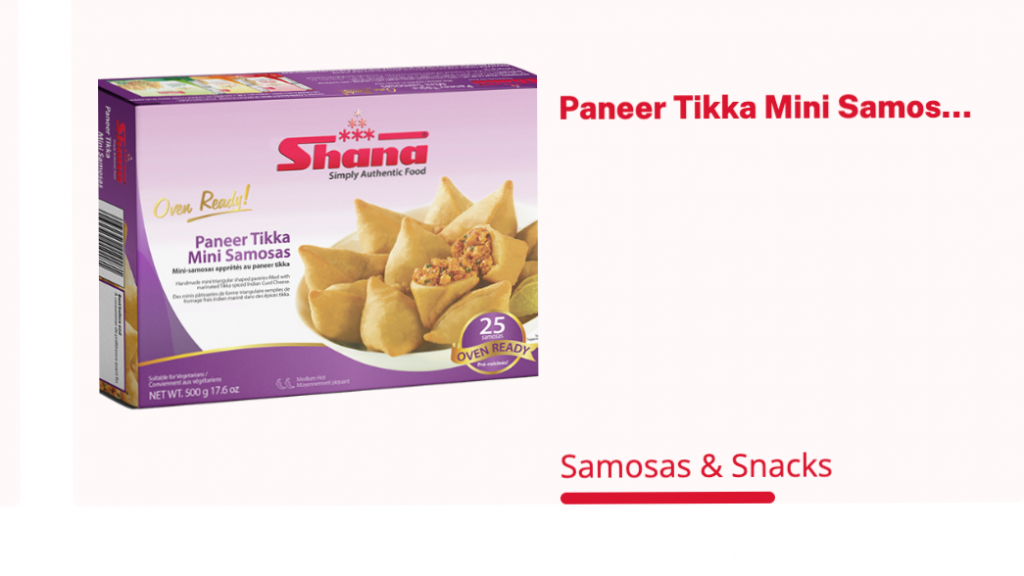 We marinate cubes of cottage cheese, or paneer, and cook it in masala before stuffing it inside a puff pastry and frying it until golden brown. Our recipe can be served either as a side dish or as an appetizer, and can be served with various toppings like chutneys and sauces or dips. 
4.Patra curried leaves 
A Gujarati farsan that can be consumed for breakfast or as a teatime snack, patra curried leaves are Colocasia leaves stuffed with a spicy mixture of gram flour, tamarind, and spices. A great way to enjoy this tasty treat is to deep-fry cooked patras until crisp and have them with tea or sweet and sour chutney. 
Ideal as a snack, Shana patra are conveniently steamed and cut into round pieces, ready for you to enjoy!