As a working parent, you might find it impossible to spend quality time with your family without the convenience, nutrition, and variety of frozen food items. The burgeoning interest in pre-cooked, pre-packaged foods within the food and beverage industry means there's now something for everyone – from healthy, ready to cook meals to fun, indulgent snacks for kids. 
Envisioning the growing demand of frozen foods and vegetables unique to South Asia, Shana Foods was established in 1996. Now a household name, Shana Foods is well known for its frozen exotic vegetables, authentic snacks, and traditional Indian flatbreads. We're constantly innovating and offering new products enriched in culture and tradition from across the subcontinent to cater to our growing South Asian communities in the UK and Canada. 
We use only the finest ingredients to deliver delicious yet healthy meals that everyone can enjoy. To show just how committed we are to our products, we have in place an efficient complaint management system to constantly identify areas for improvement while keeping customer service at the forefront of our business model. 

Indian groceries and more
Only Pakistanis and Indians can understand the chai and samosa cravings that come with pleasant weather. Perfect weather calls for spicy, mixed vegetable samosas and a steaming cup of cardamom flavored tea. Our samosas are packed with a savory, mixed vegetable filling, crispy and golden brown when fried to perfection. 
At Shana Foods, we have a variety of pre-packaged vegetables and snacks you can choose from, including okra, karela, methi, and guar. You can use these tropical ingredients to cook up a delicious meal using a North Indian blend of masalas, whole and ground spices, onions, and tomatoes. These traditional curries go very well with our range of flatbreads. Tear into our fluffy naan or crispy lachha paratha and pair it with a delicious South Asian meal for a truly divine experience.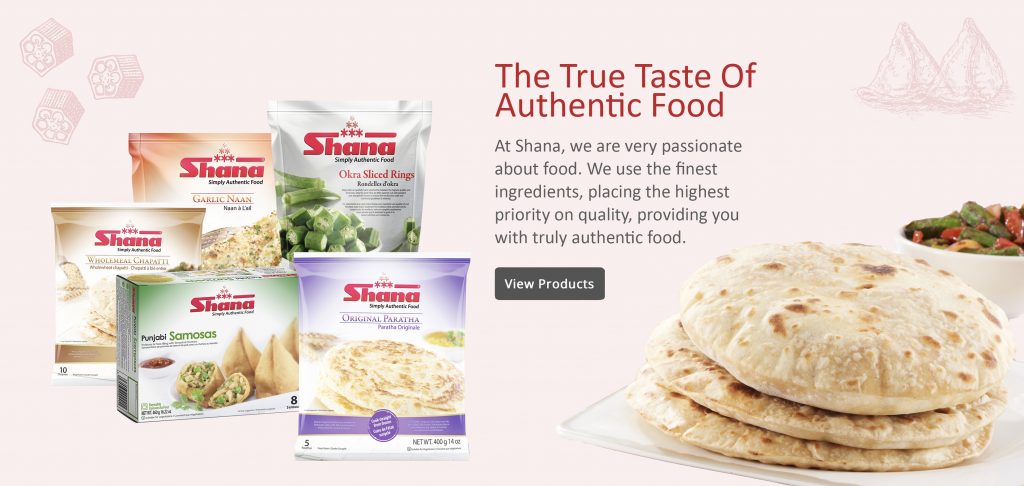 Authentic quick fix recipes
Do you ever find yourself blankly staring at a bunch of ingredients with no idea what to cook? Worry not, we won't leave our novice chefs to fend for themselves!
We go one step further and provide quick and easy dinner recipes that you can prepare in less than 30 minutes with leftovers and available ingredients. Feel free to explore our website for tasty dinner ideas! If you have any questions, feel free to email us at [email protected] and our team will get in touch as soon as possible!